NEWS
Hugh Grant is Ready to Reproduce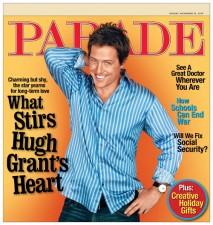 Hugh Grant is ready for babies! He's embracing the prospect of fatherhood in this Sunday's issue of Parade magazine. "Ten years ago, I wouldn't have thought about having children at all. But now I have so many nephews and nieces and cousins and godchildren, I like the thought," he reveals in the interview.
"But that's on the basis that I can leave after 10 minutes. I don't know what it would be like 24 hours a day. I think I'd have a lot of nannies."
Article continues below advertisement
When asked if he thinks he will have children of his own, Hugh quips, "Yes, yes, yes. I have not given up hope!"
"I find I'm not as bad with children as I used to be," he says of his ability to be a good dad.
Hugh also reacts to the idea of "love avoidance" as it relates to parenting and future relationships.
"If you have a smothering parent, the effect it can apparently have on a child is to give them, in equal doses, a sense of too much self-esteem, because they are mummy's little princess or prince, and low self-esteem," Hugh says. "It affects future relationships. You want to repeat this smothering thing, and you are very adept at bringing people in to love you, love you, and as soon as they get close enough, you push them away. Then you bring them back and push them away again. You can go on torturing people like that for ages."