NEWS
IDOL ROUNDUP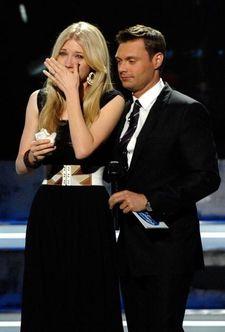 OK!'s Elizabeth Herr breaks down your fave show of the night: American Idol!
"Ryan doesn't know if Tuesday's show was the strangest ever and, frankly, neither do I, having missed the live broadcast. I caught up on YouTube and missed a lot of the filler, but did manage to find the footage of an addled Paula insisting that Jason Castro had sung two songs after he'd only done one. Were those two sharing a joint before the show again?
Article continues below advertisement
The group sing is marginally less annoying when there are fewer contestants on stage, but I still hate it. Asking a bunch of solo artists to sing together is an exercise in futility. Their voices never mesh well, and the harmonizing is painful. And the "choreography"? Always excruciating. So there were a bunch of classics in there ("Cracklin' Rose," "Song Sung Blue") but is any Diamond medley really complete without "Girl, You'll Be a Woman Soon"? I think not, show.
Idol alum alert: Gina Glocksen and Constantine Maroulis were in the audience. What is she doing hanging out with that loser? He's as smarmy and greasy as ever, now with extra bloat. Ace Young was sitting right in front of them, but Ryan totally ignored him. Burn! Also, awesome.
After the recap of Tuesday night, Ryan defended Paula against the rumors that had been running rampant all of Wednesday, saying none of them are true and calling Ms. Promise of a New Day part of our family. When will Paula learn that the easiest way to dispel rumors is to stop acting like a wack job?
Article continues below advertisement
And then we go into results. Jason was first out to the stage. He was a train wreck last night, so lazy and "whatever" about the whole thing. He's not as desperate in his grab for the big prize as his fellow contestants are, and I would find that refreshing if he were actually fantastic each and every week. For some reason (the stoner charm? the blue eyes? the dreads?), he's safe.
David Archuleta is safe, of course, but kept mouthing "oh my God" after Ryan told him. Come on, kid, you know you're not going anywhere. The David/David finale has been a lock for at least the last two weeks. But Archie really deserved to sweat a little more for picking "Sweet Caroline." And I didn't just hate it because he sang it. Any one of them would have incurred my wrath, because "SC" stopped being a real song years ago, after it was co-opted by tuneless barflies the world over.
Before my future husband David Cook was pronounced safe, he said the first thing he thought after Paula called him the next Idol was that it was the kiss of death, given what happened to Carly last week. I understand why he'd feel that way, but seriously, Simon compared the wrong person to Kelly Clarkson (gender differences notwithstanding) all those weeks ago.
And then there were two, Syesha Mercado and Brooke White. Before the final result, Ryan sent them to the couches with the guys ("We'll stay as long as we can," said Brooke. Oh, honey!) to be bored by – I mean watch – Natasha Bedingfield, who afterward made a big show of wanting to meet David. Cook thought she meant him, but she went right for Archuleta. Ha! More uncomfortable prom-date wrangling from Seacrest. I've never been a huge Neil Diamond fan ("Love on the Rocks" is pretty cheesetastic), but he was pretty great last night. He wiped the floor with Bedingfield, that's for sure.
And Brooke is out. She was a gasping, sobbing, snotting mess, as we all knew she'd be when this day finally arrived. But my Brooke love continues unabated. She deserved to make it at least to the top 4. Oh, well, at least she's got that hot husband to go home to!"