NEWS
Idol Watch: What You Didn't See Last Night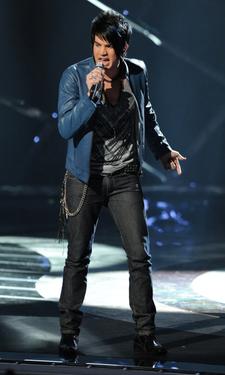 American Idol kicked off the first round of the finals on Tuesday night with a bang — a "Bad" bang!
The top 13 contestants got the audience and judges grooving to the beats of Michael Jackson, as they belted out their best versions of the pop legend's songs with the hope of not being eliminated tomorrow night.
Of all the Idol hopefuls, Allison Iraheta, Danny Gokey, and Matt Giraud emerged as early contenders, but it was Adam Lambert who stole the top spot in the judge's eyes with his rockin' rendition of "Black and White."
Article continues below advertisement
But while the camera stayed focused on the contestants, things were just as electrifying off-camera!
When the cameras weren't on them, the usually squabbling pair of Simon Cowell and Paula Abdul spent most of their time whispering and flirting with each other, leaving the other two judges, Randy Jackson and Kara DioGuardi, looking like they'd been left out of an exclusive club!
At one point, while everyone was watching one of the pre-taped contestant profiles, Simon actually slung his arm around Paula's chair and ran his eyes over her short, white dress, causing her to giggle and roll her eyes like an enamored school girl.
Perhaps it was all a bit too much for Paula, who felt compelled to leave the judges' table during each commercial break. "Every time they went to break, she'd shoot up from her chair and have two crew members help her down the two steps so she could leave the the set for the whole break," one audience member tells OK!.
And during one of these breaks, Simon followed Paula out and suddenly reached out, giving her a playful pat on her rump, prompting her to turn around and shoot him a look of mock anger.
Article continues below advertisement
But if Simon was in a good mood, it was only for Paula. With the contestants he was his usual ornery — borderline offensive — self, even managing to insult songwriter Siedah Garrett, who was in the audience and co-penned Jacko's "Keep the Faith," which finalist Scott MacIntyre chose to sing.
"I must apologize to the songwriter, because I hated the song," he blurted out amid boos from the audience.
And then it was back to Paula, who — not surprisingly — jumped up from her chair during performances to dance, shaking her hips and waving her hands in the air.
Half-way through the show, the former Laker Girl got caught up in her microphone cord, and Simon immediately helped her unwind so that she could sit back down. When she jumped up again later during the show, Simon grabbed her by the elbow and kept her sitting.
But was Paula upset? No! She just started dancing in her chair!
Celeb chef and reality star Gordon Ramsay arrived for the second hour, taking a seat in the front row and chatting up Simon during commericals. Season One runner-up, Justin Guarini and The View's Elisabeth Hasselbeck, who's in L.A. to shoot the show, along with Idol Season 7's Chikezie helped cheer the contestants on from the audience.
Tun in Wednesday to see who makes the cut!
By Katie Rhames