NEWS
Is it Time for 30 Barack?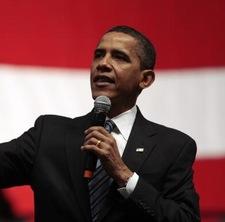 Ask most TV actors who they'd love to have do a cameo on their show and you'll hear a who's who of A-list names like Brad Pitt, Kate Winslet or Russell Crowe, but all those superstars pale in comparison to the name on the top of 30 Rock star Jane Krakowski's list.
"I keep saying we've just got to get Barack Obama," she reveals to Eonline.com. "We've had Steve Martin. We've had Oprah. We've had Jerry Seinfeld. We've had all these great musical greats. Let's just go for the big guns now."
Article continues below advertisement
And those aren't the only huge names that have popped in for a guest spot. Just this season alone, Jennifer Aniston made a memorable appearance as Tina Fey's possibly insane party-girl pal, and Salma Hayek had a recurring role as Alec Baldwin's love interest.
As for landing Barack, Jane thinks it might be easier than people imagine. "I always say, 'He was on The Tonight Show, so he's part of the NBC family,'" she laughs. "He might want to just come by."