NEWS
It's Over for Amanda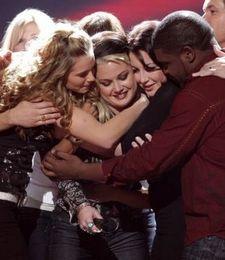 Even well into its seventh season on TV, American Idol still never fails to provide surprises when it comes to eliminating finalists. And while it was no shock to AI fans who've tracked Amanda Overmyer's rocky path to the finals that the bluesy nurse from Indiana would be heading home, there was one member of this week's bottom three that had the judges and audience shocked.
As Idol host Ryan Seacrest went through the remaining 11 finalists on Wednesday night's elimination show, it seemed that Irish songbird Carly Smithson, favored by many to make it to the end of the competition, would be a shoo-in to make the top 10, and thereby earn a spot on this summer's American Idol tour.
Article continues below advertisement
However, when Ryan dropped the bomb on Carly that the voting viewers had apparently agreed with judge Simon Cowell, who was anything but blown away by her version of Beatles classic "Blackbird," and that she was in the bottom three of this week's finalists, you could feel the air being sucked out of the theater in shock.
"America definitely got it wrong," judge Paula Abdul said following the announcement. And while Simon remained silent, Randy Jackson said he feels Carly is "one of the best singers" in the competition.
While the other finalists were herded to their seats on the comfy couches at stage left, Carly was eventually joined by Kristy Lee Cook and then Amanda before Ryan gave the big-haired biker babe her exit pass from American Idol.
"They've got it right for two weeks in a row," Simon said of the elimination.
What do you think? Did America get it right? Did Carly really deserve to be in the bottom three?