NEWS
Jane Seymour Regrets Arnold Schwarzenegger Quotes: "I Should Have Said Nothing"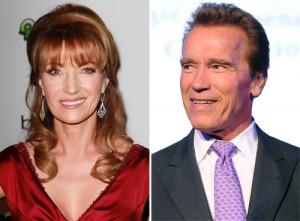 Actress Jane Seymour did not remain tight-lipped last week when she was asked about Arnold Schwarzenegger's indiscretions at a red carpet event. Instead, she voiced her opinion on the former governor of California's infidelity and reportedly suggested that he fathered more than just one child out of wedlock. Now, Jane claims she was misquoted.
At the premiere of Love, Wedding, Marriage last week, Jane reportedly discussed Arnold's recent scandal with CNN and shared she was not shocked about Arnold's love child revelation.
Article continues below advertisement
Jane reportedly said she knew there would be more news after Arnold and Maria Shriver announced they were separating after 25 years of marriage.
"I was not even remotely surprised," Jane said. "The moment I heard it, that there was an announcement of their separation — he was obviously jumping the gun before everyone else told the world of the news."
She added: "From what I gather, I think there will be lots of information coming people's way. I heard about two more out-of-wedlock kids somebody else knows about. I even met someone who knows him well."
Her comments suggesting Arnold fathered more children outside of his marriage with Maria went viral when they hit the web, and now Jane claims she "was highly and purposely misquoted by the press."
Article continues below advertisement
"It pains me enormously," she told TheWrap on Monday.
Jane explained that she had no knowledge herself of the two other children, rather she had heard somewhere in the press that there might be others out there.
She did say she regrets her comment, but maintains she was not surprised to hear about the Arnold and Maria's separation.
"I obviously said the wrong thing – I don't think anyone's really surprised."
"I feel terribly sorry for Maria and the kids. It must be incredibly hard, particularly for the children," Jane continued. "In retrospect, going down that press line, I should have just shut my mouth and said nothing."