NEWS
Janet Jackson Talks Marriage, Threesomes & Britney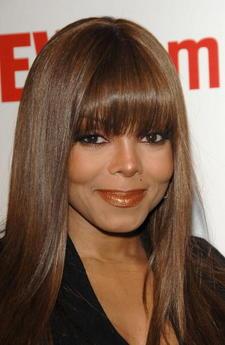 Like the old adage says, "love comes when you least expect it. That certainly rang true for Janet Jackson.
Miss Jackson, if you're nasty, was happily single and planning to adopt a baby when Jermaine Dupri came along.
"I was cool with that and then here comes Jermaine, my little Tasmanian devil," Janet tells Extra.
The couple has been together for nearly six years now, but contrary to popular rumors, they're not married and have no future plans to tie the knot... yet.
Article continues below advertisement
"If I were to get married, Jermaine is going to let the entire world know!" she exclaims.
The couple's next production won't be a baby though — it's Janet's new album, Discipline, slated to hit shelves Feb. 26. It's her 10th disc for the 41-year-old superstar and features ultra-racy tunes, including one about a threesome, calling into question her sex life.
"I think whatever you're into, as long as you both are into it, it's cool," Janet responds.
Another pop star who dished out kinky tunes is Britney Spears, a fellow singer who also grew up in the public eye, and Janet says she can sometimes relate to Brit's life, but doesn't understand the scrutiny surrounding it.
"I don't think it's fair for people to be so judgmental because we don't know what young actors/musicians are feeling," she says. "You read what people want you to know or want you to think but to really know what's going on in her heart and soul and her mind; no one knows that unless they were to sit down and possibly, hopefully, speak to her. Then, maybe they'd be able to understand a glimpse of it."
For more on Janet, tune in to Extra tonight!