NEWS
January Jones: Too Skinny for 'Mad Men'?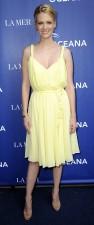 Mad Men star January Jones admits she's been having trouble filling out the girdle of the curvy late '60s character she portrays on the critically acclaimed AMC show — and it's gotten her in hot water with producers.
"I got told a couple of days ago that I look too skinny, and I was in trouble," January sheepishly told reporters at the July 28 party for the AMC network. "I'm naturally pretty thin, so I'm trying," the beautiful blonde actress said, showing reporters she was drinking an Amstel Light beer at the party.
Article continues below advertisement
Also, January says, "I eat whatever is at craft services. I'm a big eater. I'm from South Dakota, so meat, potatoes, carbs." The star notes that to maintain Mad Men's early '60s look, in which women definitely had more meat on their bones, she and the other actresses are "encouraged NOT to work out. We want soft; we don't want any muscle definition."
January's character, who is married to advertising guru Don Draper, played by Jon Hamm, is pregnant during the show's third season, premiering August 16. It has affected her wardrobe: "We've done a little bit less petticoats and it's been really fun.
"They tell us to gain weight, gain weight, gain weight, because they want a soft, voluptuous woman which they were back then which is beautiful, as it should be."
BY CAROLE GLINES