NEWS
Jasmine Fiore & Ryan Jenkins: The Model and the Murderer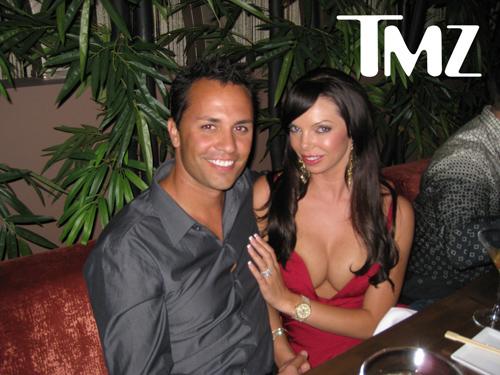 In a shocking case that has shaken the reality television world, Megan Wants a Millionaire contestant Ryan Jenkins hanged himself after being sought by police for the murder of his wife, swimsuit model Jasmine Fiore. "It brings some closure," Jasmine's mother, Lisa Lepore, told the Today show this week after Ryan was found dead.
Jasmine's nude body was discovered inside a suitcase in a Buena Park, Calif., trash bin on Aug. 15. Five days later, police charged Ryan with the killing. A preliminary coroner's report showed that Jasmine — whom a friend described to OK! as "super sweet" — had been strangled, and cops said Ryan, 32, had pulled out her teeth and cut off her fingers in order to hide her identity; the Playboy beauty, 28, was identified by the serial number on her breast implants.
Article continues below advertisement
"He always very nice and kind to me," Megan Hauserman of Megan Wants a Millionaire, one Vh1 show Ryan was on, told a reporter. But Ryan had a violent history: In June, he was charged with misdemeanor battery for allegedly hitting Jasmine at a Las Vegas hotel, and he was convicted in 2007 of assaulting a girlfriend.
Following Jasmine's murder, Megan Wants a Millionaire was pulled off the air and production company 51 Minds insisted "it was not aware of Ryan Jenkins' record when it cast him." I Love Money 3, which Ryan was set to appear on, was also canceled.
The Web site TMZ reported that police have a video of Ryan leaving San Diego's L'Auberge Del Mar Hotel with a suitcase and they believe he may have killed Jasmine there.
He then drove to Washington state, boarded a boat and went to Vancouver. With U.S. and Canadian police on his trail, Ryan checked into the Thunderbird Motel in Hope, British Columbia, with a woman; she left before a motel employee found his body.
Authorities believe Ryan murdered Jasmine because he was jealous of her former flame Robert Hasman, who remained close to Jasmine after she wed Ryan in March (reports that the marriage was annulled are unconfirmed). Robert was with Jasmine in Mexico in July, and before her death, sources told TMZ, she texted Robert that she wanted to travel to Las Vegas to see him.
During an Aug. 24 Today show interview, Robert — who has called Ryan an "animal" — said, "I was happy that Ryan killed himself." Jasmine's mother is relieved as well. "We don't have to worry about looking for him anymore," she said, "or that he's a threat to any other women or men."