NEWS
Jennifer Lawrence Explains Kristen Stewart Quote & Peeing Her Pants on 'Hunger Games' Set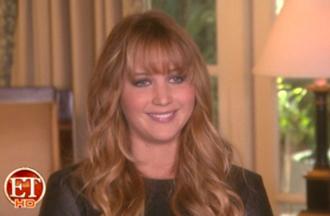 Article continues below advertisement
Jennifer sat down with Entertainment Tonight and explained the statement she made in the April issue of Glamour UK about Kristen.
"I look at Kristen Stewart now, and I think, 'I'd never want to be that famous,' " Jennifer told the magazine. "I can't imagine how I'd feel if all of a sudden my life was pandemonium."
But Jennifer says her quote was taken out of context.
"I meant I wouldn't have wanted the way that fame happened to her," she explained to ET. "Those movies came out, and they just exploded into fame. They had no idea.... I wouldn't want to be famous... by complete surprise."
OK! NEWS: JOSH HUTCHERSON MADE JENNIFER LAWRENCE "PEE HER PANTS" ON HUNGER GAMES SET
As for Josh's claim that Jennifer "peed her pants" after he pulled a prank on her, that's true — but only a little bit true!
"Josh took this mutilated corpse thing and put it in my bathroom sitting on the toilet holding toilet paper and shut the door so that I go into my trailer, open the door and freak out," she recalled. "I had to pee, and then I open the door and got scared so a tiny bit of pee came out.... and then he goes on Ellen DeGeneres and was like, 'She peed her pants.' "
Jennifer insists, "I didn't fully pee my pants."
We think Josh can still claim victory. What do you think?