NEWS
Jerry O'Connell on his Twin Girls: "They're Crazy!"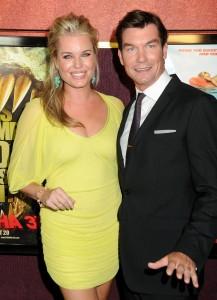 Jerry O'Connell joked that his twin daughters with wife Rebecca Romijn are scaring him while out promoting his new legal drama on CBS, The Defenders in L.A.
Jerry told OK! of Dolly and Charlie, who will turn 2 at the end of the year, "We actually just transferred them from cribs to real beds, which is a big problem because they keep coming out of their beds and you'll be sitting there, like you'll be on the computer, and one will appear in back of you-- and it scares the crap out of me.
Article continues below advertisement
REBECCA & JERRY ON TWINS - THEY SHARE THEIR OWN LANGUAGE
"They're like baby ghosts standing in the middle of the house," smiled the star, who plugged his new show and mingled with fans Friday night at the PaleyFest TV preview event at the Paley Center for Media in Beverly Hills.
He's looking forward to the Sept. 22 premiere of The Defenders with co-star Jim Belushi.
And Jerry also has his hands full with his girls, telling OK! when they aren't appearing out of nowhere like ghosts, they are "real clutchy, needy. They're always crying every time I pass them."
Luckily, Jerry's relatives will help take care of the twins this week. He's a doting dad but couldn't be happier that Rebecca's mom and her aunts just came into town to give them a break: "Somebody's got to help me with these kids. They're crazy," he laughed.