STYLE
'Jersey Shore' Star Snooki Goes Make-Up Free and Shows Off Her Au Naturale Look on Twitter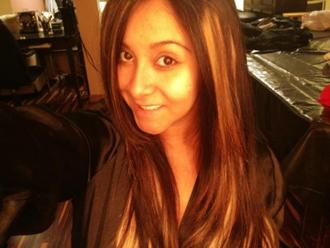 Snooki has learned to go without with her precious tanning bed since becoming pregnant and now the 24-year-old is ditching one more thing — makeup. Well in her latest Twitter pic anyway.
"My clean canvas before I get artistic," the reality star Tweeted.
OK! GALLERIES: SNOOKI AND JWOWW PRACTICE MOMMY DUTY IN JERSEY CITY
The Jersey Shore star is expecting her first child with her fiance Jionni LaValle this September. The couple are having a boy which they will name Lorenzo, and Snooki has no complaints about her body changes expect for one — her increasing breast size!
Article continues below advertisement
"I've gone up a cup size: I'm a D now. I hate my boobs so much," she said.
But, she's happy to be sporting a bigger tummy.
"I actually want a big belly now, so I don't mind having brownies or fries," she told Us Weekly in June.
As far as her tanning goes, she's alright with not being able to do so for now.
"When I tan once, it stays forever," she told E! News,"I have that natural dark skin. Even if I didn't tan for two years, I would still be tan."