NEWS
Jesse James Alludes to Kat Von D Split on Twitter?: Posts About "Perseverance"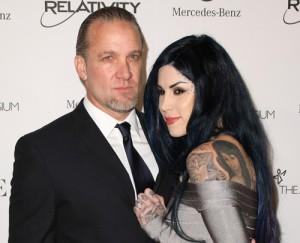 Jesse James has been "hush hush" on his recent split from fiance Kat Von D. The LA INK star announced her split from the West Coast Choppers founder on Twitter Monday, but so far no word from Jesse, until today.
" 'I do not think there is any other quality so essential to success of any kind as the quality of perseverance.' John D. Rockefeller" Jesse Tweeted earlier today, quoting the late American oil tycoon.
Article continues below advertisement
Jesse could be referring to his split from Kat, as the motorcycle man has dealt with a lot of negative press in the past year since his cheating scandal exploded during his marriage to Sandra Bullock.
OK! NEWS: KAT VON D POSTS FACEBOOK MANIFESTO — "WHAT CAN I SAY? I SUCK"
Kat was the first to announce her split from Jesse, writing on Twitter: "I am no longer w Jesse, and out of respect for him, his family and myself, thats all the info I'd like to share. Thanks for respecting that."
After a whirlwind romance, the couple was engaged in January.
Yesterday, Kat was so angry at Fox 11's Good Day L.A. program for the showing an introductory clip of her and Jesse from LA Ink that she stormed off set, skipping out on her scheduled segment.