NEWS
Jesse James Says It's Time to Make Sure Jesse's Happy, Not Sandra Bullock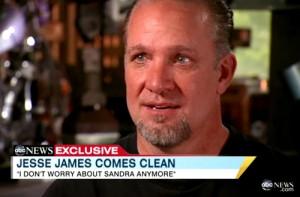 Jesse James may have moved near Sandra Bullock in Austin, Texas, but the actress' ex-husband says they don't speak to each other. In a new interview, connected with the release of his memoir, American Outlaw, Jesse opens up about his life after his affair and subsequent divorce from Sandra.
OK! NEWS: SANDRA BULLOCK WANTS TO BE HOME
Jesse sat down with ABC's Nightline, but Good Morning America aired highlights of the interview this morning.
Article continues below advertisement
In the interview, he says he and Sandra were in the process of adopting Louis together, but after they split, the star adopted the baby as a single parent.
"I've never seen Louie since everything happened," Jesse explains. His daughter Sunny, who is very close with Sandra, has seen her "a couple of times." But Jesse says there has been "no contact at all for several months."
"I could only cry so much about Louie until I have to suck it up and keep a stiff upper lip and realize, 'Hey, there are three kids that I do have,' " he says. "I need to take care of them and not worry about the one that I don't, you know, and I think that's the lesson."
OK! GALLERY: SANDRA BULLOCK BRAVES THE NYC COLD EN ROUTE TO GYM
Jesse is now engaged to Kat Von D and is planning what will be his fourth marriage.
Did Jesse think getting married again so soon after Sandra would be hurtful to her?
"I can't worry about her anymore," he says. "I think I've spent a good chunk of the last five or six years worrying only about her, and what she thinks, and what I should do... controlling all my movements and everything else."
"I think it's time to worry about Jesse and making sure Jesse's happy."
Watch Jesse's full interview with Nightline tonight at 11:35 p.m. ET!