NEWS
Jesse McCartney's Boy Band Past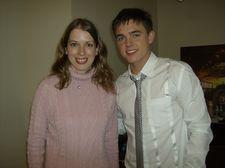 Behind every great pop star is a boy band or girl group.
While Justin Timberlake had *NSYNC and Britney Spears had Innosense, had Dream Street.
The five-piece boy band was a hit among tweens from 1999-2002. They opened for Britney and Aaron Carter.
I interviewed Jesse — and Dream Street — in 2001 backstage at Uniondale, N.Y.'s Nassau Coliseum, and there once existed a video of it online. His parents and brother were backstage, and the group was at its height of tween glory.
Article continues below advertisement
The following year, the group disbanded. Jesse went on to star in Summerland and began a successful solo career including the hits "Beautiful Soul" and "She's No You."
Flash forward six years and a few months, and we meet up again at the album release luncheon for his new record Departure, which is due May 20. (Listen for his single "Leavin'" on your fave station.)
"Oh, that was a long time ago," he says when I remind him.
What are his former bandmates up to these days?
"I just talked to Matt Ballinger about a month ago. He just graduated from Tufts University last year. He's a super, super smart kid. He's making some crazy amount of money in his first year out of college. He's working for a big firm as an accountant. He's super good with numbers. I saw Greg Raposo about a year ago. I haven't talked to Chris Trousdale or Frankie Galasso in a long time. I know Frankie is studying to be a music engineer — behind the boards."
What more can we expect from Jesse?
"I'd like to produce, and get behind the scenes in film and TV."
Sounds like a plan!