NEWS
Jessica Alba Stays 'Awake'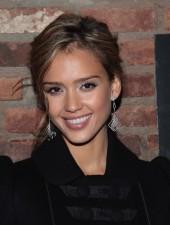 It's couples night as Jessica Alba and Cash Warren, Hayden Christensen and Rachel Bilson and the newly engaged Georgina Chapman and Harvey Weinstein hit the red carpet for the thriller Awake, which opens today. Georgina is showing off her three-stone rock as Rachel races through.
The film, which is about a person who stays awake through heart surgery, begs the plastic surgery question. Still, Lena Olin seems miffed when a reporter asks if she'd consider going under the knife. If we could read her mind, it would say 'Who, me? What are you trying to say?'
Article continues below advertisement
A National Lampoon TV reporter gives Jessica's arm the stethoscope treatment, but she's totally game. Now it's our turn! How did she pick out her dress? "My good friend Georgina is the designer, and it seemed cool, festive and cute," Jessica says. How did she get ready for the evening? "I slept for three hours," she says. And Cash – why do they make a good couple? "I don't talk about that," she nervously says. (Once bitten, twice shy – I understand.)
Whoops. Hayden scoots by while we're concentrating on Jessica.