NEWS
Jessica Biel Opens Up About Justin Timberlake: "He Has Better Taste Than I Do"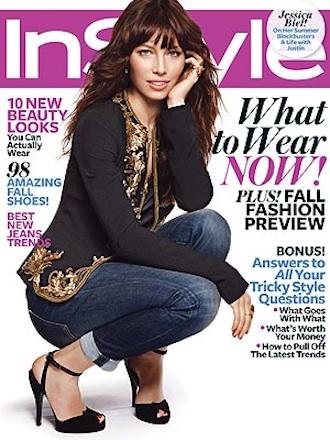 Article continues below advertisement
Justin even acts as her personal stylist before the two go out.
"When I walk out of the closet after getting dressed in the morning, I'll go like this turns palms upward as if to say, 'Well?' And he goes like this shakes his head no. Then he picks again. It's hilarious."
Who needs a gay best friend when you have Justin?
That being said, the couple have had their share of ups and downs. For years, there have been rampant reports of him cheating, crazy schedules where they're separated for long periods and even a brief break-up for a few months last year. Regardless, Jessica is determined to make it work.
MORE ON:
Justin Timberlake
OK! NEWS: JUSTIN TIMBERLAKE AND JESSICA BIEL: HEADED FOR HEARTBREAK
"The best thing I learned from my parents is that you have to put your relationship first. You need to make time for your partner," she says, adding that she and Justin haven't always been the best at that.
"Justin and I have a rule that we don't let a certain amount of time go by without seeing each other, but it doesn't always work," she says. "But from here on out, I want to participate in making smart choices for the relationship."
So what's one relationship tip Jess has for dating an A-lister or normal dude alike?
"(You have to let) go of the little stuff. You can't let it get to you."