NEWS
Jessica Simpson: Housewife In Training?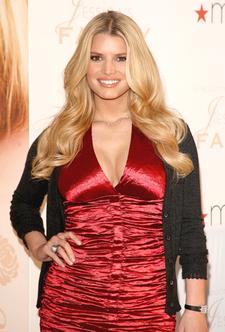 Forget going out on the town and partying all night in Hollywood, Jessica Simpson is going a very different route from other celebrity ladies these days: She's skipping the club and heading straight for the kitchen!
"Believe it or not, I like to bake pies," she tells PopTarts of her life at home right now. "Tony Romo's favorite is pumpkin pie and I haven't mastered that yet. Maybe I'm more of a baker; I like to make cakes, more fattening. I make a good carrot cake."
Article continues below advertisement
Besides fattening up her NFL quarterback boyfriend, Jess says she's dedicated to making sure his holiday season is merry and bright.
"My personality is now more stay-at-home; right now I'm doing the Christmas tree and everything. I'm in Dallas and its fun, Tony hasn't had Christmas in 7 years because they have football every Christmas and he can't go home," she says. "So I'm bringing Christmas to him this year and it's been fun. I've been out ornament shopping and all kinds of stuff, so that's more of who I am."
Well that sound cozy and cute!