NEWS
John Mayer: "I Should Be Having Sex With More Girls"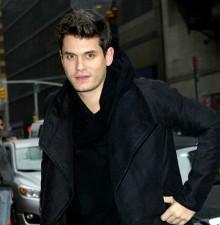 John Mayer knows being a heartthrob has its ups and downs. The singer remains hesitant of this title and of being coined a womanizer. "I should be having sex with more girls," John quips in an interview with The New York Times. High profile relationships with Jennifer Aniston and Jessica Simpson have elevated John's presence on the Hollywood dating scene, making his love life of utmost curiosity to his fans.
Article continues below advertisement
"It's crazy to me that in my head, that being 32 and dating women is going to get me in trouble," John tells the NYT. "I can't even explain to you how terrible that feels, that I equate dating a woman with punishment, shame, guilt, disappointment, reproach, reprimand, persecution. It's a nightmare."
John's fourth album Battle Studies, which released last week, is "one record about one thing," he says.
"There's nothing I've done musically that's been a wild misstep," John says. "Basically, you're saying, can you risk failure? And that's something that I'm struggling with right now, because in my life, I would like to do something in music that risks a misstep."
"I'm too young to be that dependable," he continues. "I don't want to be that dependable. Something pendulous has to happen. If I'm as self-aware as I say I am, then I would probably know that pretty soon, there's going to have to be a wrench thrown somewhere so that the momentum keeps moving forward."
Article continues below advertisement
In Battle Studies, John shows enough of a vulnerable side to keep his female fans happy. He maintains the sweet tone to his voice and the soft blues-rock he has trademarked.
"It might be that I'm freakishly in tune," he said, adding "or I desire to be in tune so much..."
The album also seems to highlight the gap between John Mayer the musician and John Mayer the public figure.
"What is the odd man out," he said. "Is it the record or the coverage? I'm not going to let it be the record. I think if you're listening to Battle Studies and you think it's a record about high-profile relationships, I haven't done a good enough job."
John makes sure to set one thing straight in response to those who criticize his love life.
"They say I'm a womanizer," he says. "I say I haven't met enough women."