NEWS
Johnny Depp is the Love of My Life, Says Vanessa Paradis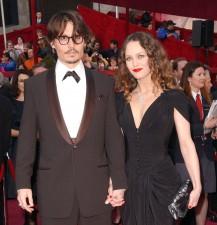 They're the most private couple in Hollywood, but Parisian beauty Vanessa Paradis has opened up about her 11-year relationship with Johnny Depp.
"I'd wanted to be a mother for a long time, but with him I couldn't avoid it," she tells the UK's Sunday Times Magazine. "He was, and still is, the love of my life."
Vanessa, 37, who has two children with the Pirates of the Caribbean star, says, "There is a lot of friendship between us, respect and admiration,"
Article continues below advertisement
"We've understood that if we want it to carry on working, it's essential to give each other space. You don't eat the same food every day, you don't read the same book or listen to the same record over and over again. You have to discover things for yourself."
What makes Johnny, 46, such a great partner? "I could go on and on about all the things I admire in him," the French singer and actress says.
"I like watching him when he's thinking, when he's talking with people, I like seeing how he handles situations. I admire him as an actor, as a father, as a man. Above all, I admire the person he is. He's fantastic."