NEWS
Jonas Brothers Open Up About Miley Cyrus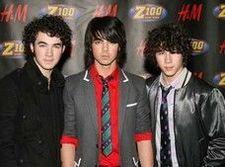 Jonas Brothers – Nick, Kevin and Joe Jonas – cause quite a stir wherever they go.
The boys are touring with Miley Cyrus, 15, who is rumored to have recently ended her relationship with Nick. Awkward alert!
"She's amazing," Nick, 15, says. "She has a lot of energy. She's really great to her fans backstage."
How crazy is it to be on a tour no one can score tickets to see?
"It's amazing that people can't get tickets," Joe, 18, says. "We can't even give them away. It's an amazing tour, and we're really honored to be on her tour. It's sold out every night, and it's a dream come true to walk onto the stage every night."
Article continues below advertisement
The guys pass the time on the tour bus by playing Nintendo and Xbox, and writing the occasional song.
Tonight: Jonas Brothers -- and Miley -- play N.J.'s Atlantic City Boardwalk Hall.