NEWS
Josh Duhamel & Katie Holmes Get 'Romantic' for J.Crew Catalog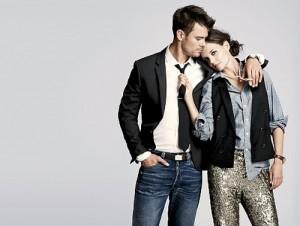 Josh Duhamel and Katie Holmes have taken their promotional tour for their latest flick The Romantics to the pages of the J.Crew fall catalog. Josh, Katie and their co-stars teamed up with the retailer, modeling the latest fall trends in a very flirty and romantic way!
The cast, which also includes Malin Akerman, Adam Brody, Rebecca Lawrence, Elijah Wood, Dianna Agron, and Jeremy Strong, reunited recently for a photo shoot for J.Crew and changed in and out of several outfits over the course of several hours for the fall catalog and the J.Crew website, according to the New York Daily News.
Article continues below advertisement
The film is about a group of very close-knit friends who are dubbed "The Romantics" because of their incestuous dating history.
"Because the story is about a group of 20-something-year-olds and before they've really become 'adults,' clothes are a huge part of defining their identity," director Galt Niederhoffer said. "Clothes are a personal statement. They can break people visually into introverts, extroverts, romantics, geeks."
The looks were a combination of J.Crew's classic pieces, bridal styles and the new upscale 769 Collection.
In case you missed it — or just love to watch it — check out The Romantics trailer!