NEWS
Josh, Mary-Kate, Olivia Do 'Wackness'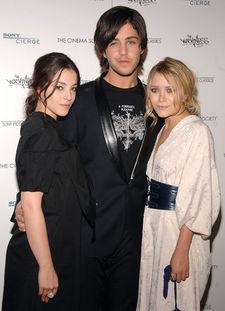 Coming-of-age dramedy The Wackness opens today. The eagerly-anticipated flick takes place in 1994 NYC, and I caught up with the film's stars at The Regency Hotel.
Was it tough for Josh Peck, who got his start on Nickelodeon's Drake And Josh, to do nude scenes?
"It was awful," the 21-year-old actor tells me. "It was petrifying. I was completely scared. Everybody's got body issues, but especially when you transform onscreen, it's very difficult. Olivia Thirlby and I didn't talk to each other the first part of the day. We shot around 5:00 – that magic hour of when the sun was going down. We were right on the beach. I didn't eat any lunch 'cause I didn't want to be bloated. laughs I did 100 pushups in my trailer beforehand, and I dropped the robe and went with God." He adds, "Ghandi was there. That's as close to God as you can get."
Article continues below advertisement
The actor pretends not to hear when asked three times how he shed the weight he carried as a teen star. Noted!
Where was he in 1994?
"I was eight, so I was watching Power Rangers and rocking Bugle Boy jeans and shoes with lights in them. Listening to Spice Girls, and my first Joey Lawrence album. I remember the things I was saying in '94. Things like we say now like 'what's good' and 'that's tight' – back then we said ridiculous things like 'yo, that's mad crazy b.'"
He was talking like that at 8? "Yeah."
Here comes director Jonathan Levine, who talks about Sir Ben Kingsley and Mary-Kate Olsen's fabled love scene.
"It was cool because he's playing someone who's so immature and she seems really wise when you meet her … and it was also 3 o'clock in the morning," he says. "They were having fun with it. They were having a good time."
Meanwhile, Olivia Thirlby, 21, won't tolerate Mary-Kate questions, but tells me she would "love to" work with Seth Rogen even though she was replaced by Amber Heard in his forthcoming comedy Pineapple Express. "I was really disappointed because I love Judd Apatow and I love Seth Rogen and I'm a huge fan of their comedy. I was super-pumped to be a part of one. It was disappointing, but I guess I learned a part of the business. Sometimes with casting it's completely out of your control. You've gotta not take things too personally. I still have no idea why, and I'm not sure anybody knew why. It's just a decision that came down from on high. I actually don't know Amber. I've never met her before. It kind of happens. All my friends are always auditioning for the same projects, if not the very same roles. It's sort of fun when I go to L.A., and I stay with friends and we work on the same sides together. It's a fun experience."
Article continues below advertisement
Method Man cracks a joke when asked about his watch.
"My mom hates when I leave the house with her jewelry, but I had to this morning," the rapper/actor, 37, says. "I've gotta give this back to her."
What's his favorite thing about NYC in the summer?
"Fashion," Method says. "Not for me to wear, but I like booty shorts. Sorry. If you have the legs, flaunt them. And those Spartan-type sandals. I love them. Y'all killing them. The women are murdering those sandals that look like Spartan shoes."
The Wackness is in theaters now.