NEWS
Julianne Hough Remains Unchanged By Fame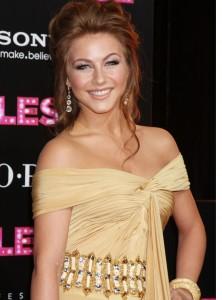 Julianne Hough has been traveling the world with boyfriend Ryan Seacrest, but when she goes home to Salt Lake City, she can be found visiting her old haunts.
"I go to Café Rio, which is my favorite little place in Utah," the Burlesque star, 22, tells me. "It's where I used to go for lunch during high school every day. laughs I like to order the pork salad there. It's amazing. I think they dip the pork in, like, coke or something. It's so good."
Article continues below advertisement
For the holidays, Julianne will clock time with family. She has 15+ nieces and nephews!
"I'm definitely not new to the whole changing diapers, being an aunt thing," she says.
Lucky for her family, Julianne's heart has stayed kind throughout her rise to fame.
"I'm not an envious person," she says. "I'm grateful for everything that I have, and if somebody is successful, I'm happy for them."
And if you catch her on the street, she'll let her guard down.
"People always say 'you look like Julianne Hough.' That's what usually happens. They don't think I'm actually me. laughs I say 'oh, I get that a lot.' laughs And then I laugh, and I say 'I'm actually Julianne.'"
Here are my two pix with her:
Pick up the OK! on newsstands now for more coverage of Burlesque. The cover line is "William and Kate: Wedding Special." And, catch Julianne in Burlesque, which is in theaters now.