NEWS
Justin Bieber Arrives Late to the Ironic Mustache Game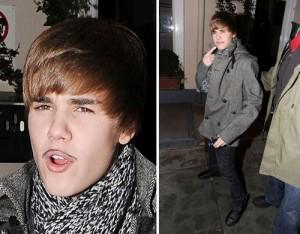 Mustaches are always funny, especially when fakes ones are sported by people who probably couldn't grow a real one. Justin Bieber showed off his drawn-on attempt to appear manly while twirling a toy helicopter and laughing with his bodyguard. Just in case anyone missed his oh-so-funny facial farce, Biebs made a point of pointing to his upper lip.
OK! GALLERY: JUSTIN B. SCRIBBLES HIS JOHN H. FOR SPANISH FANS
Article continues below advertisement
It might be a case of adolescent punkiness, but lately Justin seems to be acting out a little bit. He was prompted to apologize for not appearing overly amped for his Grammy nominations, saying he was just overhwlemed.
OK! NEWS: JUSTIN BIEBER SAYS "HOLY CRAP!" TO GRAMMY NOMINATIONS
And at a recent album signing in Spain, he appeared grumpy and a little crabby. Even popstars with crowns of perfect hair atop their twee little heads have off days, it seems!