NEWS
Justin Bieber Gets Inspired By Justin Timberlake for New Album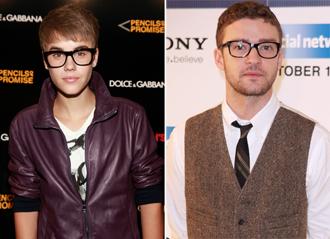 As Justin Bieber talks about the album after his Christmas record, the highly-anticipated Under the Mistletoe, he attributes none other than Justin Timberlake as his inspiration! The Biebs points out the follow-up to his incredibly successful album, My World 2.0, will deviate from his previous tracks. Indicating his plans to create a new sound, it'll be like JT when he introduced acoustic guitar over hard drums.
Article continues below advertisement
OK! NEWS: JUSTIN BIEBER SAYS HE'S "WORKING ON THE SCRIPT" FOR HIS NEXT MOVIE
While on tour in Chile, the Biebs told MTV, "I'm trying to create a new sound that people aren't really used to hearing, so it might sound weird at first, but it's going to be like Justin Timberlake did FutureSex/LoveSounds: It was a new sound ... acoustic guitar over hard drums."
He added, "I want to find something that's going to suit me and my fans are going to love and older people will like and younger people will like. But I'm always trying to keep my core fanbase, because the young people are what make everything cool. Old people look to young people, so trying to keep everyone happy."
OK! NEWS: JUSTIN BIEBER SHARES BEHIND THE SCENES FOOTAGE OF HIS 'MISTLETOE' MUSIC VIDEO
Although he doesn't know when the album will be released, he did say it'll be "soon...early next year."
Considering he's incredibly busy, the Biebs has no choice but to think about this album even though his holiday one won't be released until November 1.
He revealed, "What's happening is: get off this tour, and then my holiday album's coming out, so I have to go back out and promote that album...and then after that...it's almost time for my next album, so then everything starts over again."
OK! GALLERY: CALLING ALL BELIEBERS! CHECK OUT OK!'S ULTIMATE JUSTIN BIEBER GALLERY!
He also pointed out this album will be a labor of love.
"We've already started working on it, but we're going to be going in every day and working with new people and trying to find the best sound, because I'm going to be recording different styles, different things until I find a solid 15 songs that I love....I'm going to be recording as many songs as I possibly can."