NEWS
Justin Bieber Performs With Stevie Wonder And Drew Ryniewicz on 'The X Factor' Finale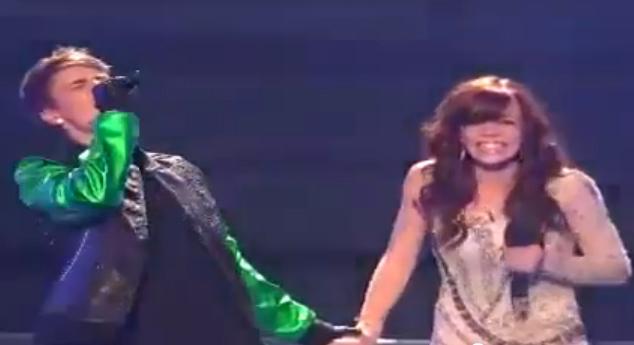 Last night's finale of The X Factor was full of celebrity performances from 50 Cent to Leona Lewis to Pitbull, but the most precious moment came in the form of Justin Bieber. 
The Biebs started out his performance by singing "The Christmas Song" with the fabulous Stevie Wonder before going into a rocking rendition of "Santa Claus is Coming to Town." Halfway through the song, Justin stopped and called X Factor finalist Drew Ryniewicz onto the stage.
Article continues below advertisement
OK! GALLERY: JUSTIN BIEBER SINGS FOR BRAZILIAN FANS ON HIS BALCONY AND DEBUTS "MISTLETOE"
Drew has admitted more than once how much she loves the Biebs, she even sang his song "Baby" for her X Factor audition. And when she was booted off the show, Justin Tweeted her, "keep your head up. I lost my first competition too. this is just the beginning for u. never say never. best wishes." 
When Drew joined Justin on stage last night, you could see how starstruck she was, and when the Biebs started hugging her and dancing with her, we are surprised she didn't pass out. Every young girl watching was sure to be wishing they were Drew! Wonder if Justin's girlfriend, Selena Gomez, was jealous?
Check out Justin and Drew's adorable moment together below.