NEWS
Justin Bieber Supports Carly Rae Jepsen on 'Ellen': "She's So Talented!"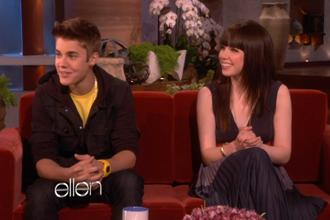 Article continues below advertisement
"I was in Canada and I was listening to the radio and then her song came on and I was like, Who is this?'" Justin explains to Ellen on the episode, airing today. "I looked her up and saw all the stuff she's done and she's really talented! And she was available, so I signed her."
And Carly Rae couldn't be happier to be the first artist on Justin's record label.
"I had been signed in Canada to 604 records," Carly says. "I had never branched outside of Canada and had no idea how to do that and then one miraculous day, Justin called."