NEWS
Kat Graham on Jeremy & Anna's 'Vampire Diaries' Relationship: "That S*** Wouldn't Fly With Me"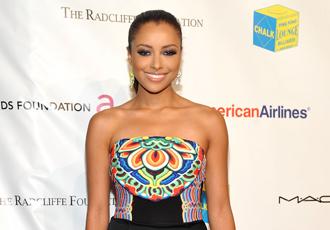 Kat Graham understands why her character Bonnie is so mad at her boyfriend Jeremy! When The Vampire Diaries star stopped by OK! yesterday, we had to ask her about tonight's episode and if she sees a Matt-Bonnie hook up in the future.
Jeremy, portrayed by Steven R. McQueen, continues to see dead ex-girlfriend Anna in ghost form and this isn't making Bonnie so happy.
"I think it's only because she knows that he's choosing to, making a conscious effort and actually thinking of them, and that's probably more bothersome to her than them actually being around. Because he can probably get rid of them if he wanted to and she's realizing the reality is that he doesn't want to."
Article continues below advertisement
Kat relates to her character's issues with it: "I don't think that any girl in a relationship would put herself in that position — I wouldn't. I sure as hell wouldn't. I just might be a crazy girl, but that s*** wouldn't fly with me."
When Jeremy and Bonnie first got together, it wasn't something Kat (or the viewers!) saw coming.
"I totally didn't. The writers have a tendency to throw us all for a loop with the show, they surprise even us and we're the cast! We've been on there for 2-3 seasons. But I loved it. I loved what they did with the characters; they made their relationship so innocent and so pure. They're just people starting something new and fresh and trusting each other and being there for one another. I love that purity of their innocence. I love it."
OK! asked the actress about a potential Matt-Bonnie pairing, a rumor that has been going around online for weeks.
"It was trending worldwide after that episode aired! I really love Zack Roerig, he's so awesome. Whatever they give me with anyone on the show I will be absolutely happy with." You can catch The Vampire Diaries tonight at 8 p.m. ET on The CW.