NEWS
Kathie Lee Gifford Shares Her Favorite Moment From Kim Kardashian's Wedding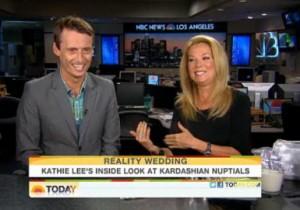 Today show's Kathie Lee Gifford chatted with E! News' Ken Baker on the Today show this morning about their experience at Kim Kardashian's wedding, and there seems to be a consensus — Mason stole the show!
OK! NEWS: NEIGHBORS COMPLAIN ABOUT NOISE AT KIM KARDASHIAN'S WEDDING
Anny Curry asked Kathie Lee and Ken what their best moment was at Kim and Kris Humphries' wedding.
"For me, it was little Mason coming down the aisle," Kathie Lee said on Today. "If it's possible to steal the thunder from Kim Kardashian-Humphries, it was Mason. He was just the cutest thing. It just reminded me of the stunning contrast for me at this wedding. It was typically Kardashian, over-the-top crazy. Ultimately, it comes down to a family and everbody's got that little one that comes down the aisle — flower girls or something — it just made it so human. It really did."
Article continues below advertisement