NEWS
Kellan Lutz May Be Baring His Body in 'Conan the Barbarian'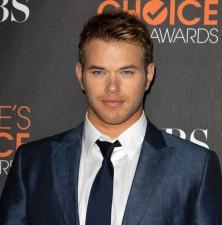 One of America's favorite vampires, Kellan Lutz, may soon take on a new role as muscle-bound Conan in the epic tale Conan the Barbarian. "It's something that I've been actively going after because I'd die to put the weight back on," Kellan told E! at the News Division-E party in L.A. "I'm tired of playing young; I want to be the big guy that I was."
We know we wouldn't mind seeing Kellan battle it out on the big screen shirtless and in a loin cloth.
Article continues below advertisement
"I've been auditioning," Kellan, 24, told E! News. "They're finalizing so they're trying to figure out what happens next. I've been waiting for a while, doing screen tests. There are just so many cooks in the kitchen. If it happens, it happens…Regardless, it's not gonna be the new Arnold Schwarzenegger type of movie, no one's going to try and play that role. I think they're going younger, a different type of story. I'm just excited, because the script is great."
Other actors up for the role include Jason Momoa from the series Stargate: Atlantis, Deadline Hollywood reports.
Production is slated to begin March 15 in Bulgaria and producers and director Marcus Nispel should be choosing their leading man any day now.
As far as rumors that Kellan will be the new Calvin Klein underwear model...
"If I had the chance to do that, I would love to," he told E! News.
He said he wears Calvins "all the time" and is a "boxer briefs" guy.