NEWS
Kellan Lutz: Robert Pattinson Is A Shy Guy!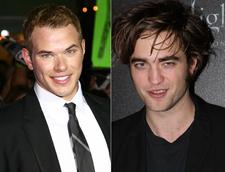 What does Twilight star Robert Pattinson have in common with his on-screen alter ego Edward Cullen?
According to his co-star Kellan Lutz, they both have a special way of attracting ladies – with little effort.
In an interview on Ryan Seacrest's radio show, Kellan pointed out Rob's signature swagger.
"His accent and his crazy hairdo get the girls swooning," the actor said. "Rob's kind of shy, and he does this thing, when he's really shy, or when someone asks him something, he lowers his head down and the girls love it!"
Article continues below advertisement
CLICK HERE for OK!'s Robert Pattinson gallery!
Luckily, according to Kellan, the teen idol isn't letting all the attention go to his head.
"He's such a humble guy," he told Ryan, "and I'm very impressed with him."
The interview wasn't all about RPattz. Ryan even confessed that Edward wasn't necessarily his favorite member of the Cullen clan.
"Rob is the lead, but you're the better-looking Cullen," he admitted.
To which Kellan replied, "Ooh, I need to hang out with people like you more often!"
Something tells me Rob won't be too jealous.
More RPattz pics: