NEWS
Kelly Killoren Bensimon's 'Get Sexy' Tips for V-Day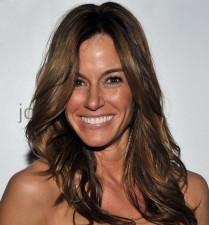 Although Real Housewives of New York City star Kelly Killoren Bensimon took it all off for Playboy (on newsstands now), her real passion isn't nudism – it's wearing racy undergarments.
In celebration of Valentine's Day weekend, she serves up her sexiest advice.
"Everyone thinks the greatest gift is when someone gives you lingerie, but I think the greatest gift is when you show someone that you went and bought lingerie and you're the gift," the divorced mom of two, 41, who has recently been linked to chef Sam Talbot, told OK! during the FEMMY Gala on Feb. 2. "It's more exciting when you become the actual gift, rather than saying, 'Hey, here's underwear.' "
Article continues below advertisement
Kelly says it's not just unmentionables that can perk up your Valentine's Day.
"Anything that's a surprise, whether you paint your toenails red, when you're someone who never wears toenail polish, or you wear a fun red bra, or you make it a little bit unusual. A thing like black eyeliner can make eyes look a little sexier. You don't have to spend a lot of money, but every little bit counts. Let's be honest: If a man is in love with you, he notices everything about you. I just think you being the present is much more provocative than receiving a present."
Buying lingerie is Kelly's specialty. Here, she shares her tips.
"I think it's best to buy bras that are a little bit too small," she says. "It gives you a bit more cleavage. It's sexier. It's not exactly so practical — it just looks hotter. Boy shorts are the new thong. I really like boy shorts, but to be honest with you, there's nothing more unattractive than seeing someone's pantylines, so, in that case, wear Calvin Klein thongs. He makes really great ones — they're almost invisible. If you're going to have an issue with pantylines, then wear boy shorts because they're just more attractive than if you're wearing a panty. But I always like 'buy a bra that's a little bit smaller.' The industry will probably say I'm wrong, but I always think it's better to show a little more cleavage than just be supporting."
Article continues below advertisement
Leonardo DiCaprio's supermodel girlfriend Bar Refaeli has said she wears cheap underwear because expensive underwear is "so unnecessary." How does Kelly feel?
"I have this motto of 'if it's good, it's good.' It's not a question of price — it's a question of what it is. When I go to Paris, I always buy very inexpensive lingerie at the supermarket, because they have really great lingerie but, at the same time, it's really nice to wear something that's really, really beautiful, too; like if you're gonna buy something in satin, it's nice to buy something a little more expensive. But let's be honest: Trashy.com has the most fun underwear ever. You feel like Little Bo Peep, even if you're wearing it under a sweatshirt. Nobody needs to know. I think you should have fun with it and enjoy it. It's more than underpinning. A lot of people are having a good time with lingerie, and I think it's supportive. It's form and function."
Playful Kelly isn't beyond dressing up as a nurse, cheerleader or teacher to make the bedroom more fun.
"Any time you have an opportunity to be playful, you should," she says. "Obviously that stays in the bedroom, it doesn't go anywhere past that. But you only live once, so why not enjoy your life? If that's what you want to do, go for it."
But it's not just in the bedroom that Kelly wants to be sexy. She swears by being sexy all day.
Article continues below advertisement
"Everyone's wondering about what they want to wear during the day, but I start by wondering, 'What underwear am I going to wear?' And then I wonder what I'm going to wear," she says. "My favorite is the La Perla bra, that I'm wearing now, because it's soft and it has support."
She continues, "A lot of people think that I go commando. Well, I actually have two ginormous drawers filled with the most amazing lingerie because I've collected lingerie for many, many years."