NEWS
Kelly Ripa is All Ryka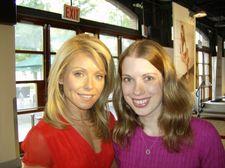 Kelly Ripa is the draw at an event to celebrate her partnership with Ryka fitness wear held inside the American Museum of Natural History in NYC.
I'm told the publicist is wearing a red dress, so I scan the room in search of a person in a red dress. I bide my time waiting for the only person wearing what could be considered a red dress when voila! I realize it's Kelly herself. (Whew, saved – that would've been awkward.)
Article continues below advertisement
Moments later, I join Ms. Ripa herself on the white leather chairs. She's a rebel -- she has a tattoo on her right ankle. The mother of three tells me she can't get enough of soy cakes as a healthy snack but she loves her pizza, and invites me to her Physique 57 exercise class.
"It's a great core-fusion sort of exercise class," she tells me. "You should try it. You would love it. It's a combination of Pilates, yoga, aerobics, weights set to really high-intense music. You work your front, and it's using your own body weight to build muscle."
How does she balance work and family? The Live cohost, 37, is mom to Michael, 10, Lola, 6, and Joaquin, 5.
"My job is not very time consuming – at all. I really am scheduled to pick up the kids from school every day. It used to be very difficult because I had the sitcom and the talk show. It required a lot of patience from my children; it required them to come to me a lot. I like it much better now because I don't think my kids should be on my schedule. I feel like I should be more on their schedule."
Article continues below advertisement
With which celebrity couple would she and hubby Mark most like to play tennis doubles?
"Probably Regis and Joy Philbin," she laughs. "They're very good, and they're very competitive. I feel like Mark and I are equally competitive, although we're not very good at tennis. I feel like they would also have the patience to teach us as well as compete with us."
Ahi tuna sandwiches, Mediterranean eggplant, cherry tomatoes stuffed with hummus and fettuccine flatbread go by.
Time to get serious. Kelly kisses Mark as soon as she's called to speak. "I'm going to put my wine down so I don't look like a lush," she says. Get this -- her workout buddy Pam Wakoff appears in the ads with Kelly!
"They said, bring her along … and so she got hair and makeup done. She said 'this is stupid, I don't know why they're making me get hair and makeup when they're only going to shoot the back of my head.' I said 'don't be ridiculous!' The back of her head looks good though, right? The back of her head is a phenomenal back of the head."
Afterwards, I'm invited to try on and choose a pair of running shoes. Nice!
The Kelly Ripa Collection will be in stores this October.
For more on Kelly Ripa, pick up the OK! on newsstands now. Brit's Private Mommy Moments is the cover line.