NEWS
Kelly Ripa, Mark Consuelos Enjoy Winter Wonderland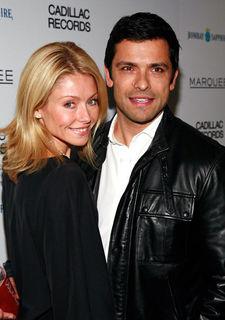 Kelly Ripa defines the word beautiful with "our kids, calmness and honor" while hubby of twelve years Mark Consuelos finds "peace" to be his ideal explanation.
This year the family is starting a new tradition.
"Winter in winter," Kelly, 38, says. "We're going to try it. Usually we do summer in winter – a bikini bathing suit destination – and now this year, I'm actually buying a coat. laughs It's never been done before."
Article continues below advertisement
Kids Michael, 11, Lola, 7, and Joaquin, 5, are enjoying having their mom and dad around more during this time of year.
"I like to take my daughter to the ballet," Kelly says. "We go to the Nutcracker every year, but I vow every year to do it more. That's my contribution to cultural society."
With Christmas and Thanksgiving done and dusted, Kelly offers fitness tips for those looking to drop a few pounds.
"I go to Physique 57, right on 57th street in Manhattan. It's the love of my life – besides my husband. That exercise program is simple, easy."
Mark, 37, chimes in. "And it really works."
With all that exercise, Kelly can even include her favorite junk food – pizza – in the mix.
"I find that as long as you're keeping your body in motion, you can pretty much eat anything in moderation," she says. "It works out."