NEWS
Kimora Lee Simmons Ready for More Kids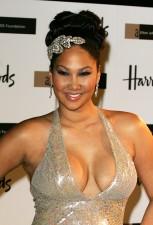 Just five months after welcoming her third child, Kenzo, into the world, Kimora Lee Simmons is ready for another baby.
"I'm scared because how could I do everything that I do on TV and how many more runways do I have to walk now pregnant, but I feel like it might be coming," she laughs during a day on which she moves into her new custom-built Beverly Hills home. "I feel like it might be coming again. cackles And I'm young, so why not?"
Article continues below advertisement
The Life In The Fab Lane reality star/designer, 34, opens up about a life that also includes actor hubby Djimon Hounsou, 45, whom she wed in May, and daughters Ming, 9, and Aoki, 7, whose dad is ex-husband Russell Simmons.
Is she hoping to rival Brangelina's brood?
"I don't put a number on it, but I wouldn't mind – whatever happens," she says. "If it's four or five, I wouldn't mind. I think I've been blessed enough to take care of them and blessed enough to have the wherewithal to deal with them, and the mental capacity and the patience, so I don't see why I couldn't or why I wouldn't. I love it. It's the most rewarding thing of my life, and I think Djimon feels the same way."
Hm, is she expecting now?
"I would like a little moment to be free to eat what I want and have a little drink and to enjoy my body post-baby -- since the baby has moved out," she tells me. "We always call it the baby condo that they left behind – you know, the belly. Before I get a new occupant in the condo, I'd like a little moment of freedom. I'll let you know – I can't keep a secret, I have a big mouth. And if I don't have a big mouth, I'll have a big belly, so you'll see one or the other. But so far, nothing yet."
Article continues below advertisement
For hands-on mom Kimora, who manages two clothing lines, Baby Phat and JCPenney's Fabulosity, taking part in her kids' lives is top priority. She says Ming is speaking French, playing piano and reading, and elaborates on what ex-hubby Russell has told me before -- that Aoki is a big fan of meditation.
"She does meditate," Kimora tells me. "We all meditate sometimes. That's very good to take five or ten minutes, if you can get 15 or 20, that's great … just to light a candle and sit still. Everything stops around you. I try to do that in the morning or sometimes at night. It helps you unwind. In your bed, or in the bathtub, it's a simple thing to sit there and let the thoughts go in and out of your mind. Don't hold on to one thing too much. She learned it from Russell and I. We all do it in the family - everybody. Russell does it, Djimon does it, myself, Ming. It's a very good way to wind down and recalibrate yourself."
She continues, "The baby's a completely different world. He's just started rolling over, and trying to sit up. It's night and day, and it's a lot of fun even though I'm drained and exhausted. That's the not Hollywood mom thing. The Hollywood mom will tell you she's fine and getting it all done. I'm drained and exhausted and tired, but it's well worth it."
Raising a boy compared to girls is very different, she attests.
Article continues below advertisement
"He eats differently, he's rougher, he wants to sit up, he wants to walk. He's strong-willed and strong-minded. It's a different personality. He's not sitting around and wanting to play with dolls all day. He's not to the age where he's playing with anything all day, but he's definitely a stronger, more active infancy. You can tell. It's how he eats – it's very different."
The little boy is getting lots of love from his half-sisters.
"They love it," she says. "They're into changing the diaper, helping warm the bottle, or if I'm breastfeeding – bringing me my little baby pillow. They're very supportive. There's no issues there at all, and again, I think it's because it's a girl-boy thing and I think it's because they're older."
She continues, "I feel like he's really the common denominator in the family. He's brought both sides of the family together. He's helped us grow and have a bond and an attachment that we would not normally feel. A baby brings everything together. Life that probably was OK is even better. There's nothing better than kids to me."
Article continues below advertisement
Luckily, Djimon has no problem getting up to take care of their little guy in the middle of the night.
"We both do," she says. "He changes the diaper, gives the bath, goes on a walk. Anything that has to do with his son. It's his first son, so he's hands-on. There's nothing that he wouldn't do. Not to mention, he's African so spiritually and in the upbringing, it's a little different. They're used to taking care of lots of kids in the family, and being very hands-on with the family, and pitching in wherever it's needed, whether it's in our home or in our family life. He's very supportive. He takes the girls to school sometimes; he picks them up. He's at every parent meeting and in every performance as well unless he's out of the country on set."
For Kimora, no accomplishment tops motherhood.
"The most fulfilling thing in my life is to be a parent and a mother," she tells me. "I think I'm very good at it. That's what I was made to do. There's times when I've been the mom and the dad. I'm very good at it; that's what I do. It's my thing."
She admits she's far from perfect, and doesn't mind that she's still harboring baby weight.
"I'm not the Hollywood girl who's going to tell you I'm juggling it all and everything's fine," she tells me. "Like, I had a breakdown today, and I cried when I missed the alarm lady. It's OK. I have people running around, and we're all trying to get it done. I have three children. I am not Hollywood perfect; 'I just won an Oscar yesterday; I'm writing my fifth bestseller book.' No. I'm a busy woman. I'm juggling a lot. I think it's way too much pressure to put on women to be perfect and get back to perfect shape. Perfect shape for whom? I feel perfect the way that I am. I'm very happy, very healthy. I think I'm taking great care of myself. I don't really put a number or size on it. And it's OK. I don't think you should push it and overdo it."
One thing is certain: We can count on more kids from Kimora in the future.
"They're fun kids, they're sweet kids, they're well-behaved, they're mannerable children. It's a successful thing we've got going on."
Pick up the OK! on newsstands now for photos from Kimora's Baby Phat spring 2010 campaign. The cover line is Taylor Swift/Taylor Lautner: "Yes! We're In Love."