NEWS
Kris Humphries Wants Kim Kardashian to Move to Minnesota & Start "Pumping Out Babies"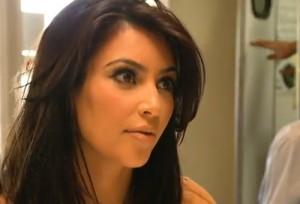 Kris Humphries wants to be a dad! In a sneak-peek clip of Kim's Fairytale Wedding, the couple tries to enjoy a relaxing lunch as the paparazzi hound them. All the attention surrounding Kim Kardashian's life is certainly a lot for Kris to handle, prompting him to suggest the couple move to Minnesota (where he's from) and pop out babies!
It looks like the couple is on the fast track to baby making.
Article continues below advertisement
Kris, 26, says he doesn't like the burden of Kim's very public lifestyle.
"This hectic-ness is only getting worse," Kim explains in the clip. "I know the attention definitely stresses Kris out and I'm nervous to see how that's going to go."
Kris' solution?
"Maybe you should just move to Minnesota with me," he tells his 30-year-old bride in a clip from Monday's E! special. "We could move into my little house on the lake, we could just start popping out babies."
Kim looks a bit shocked and perturbed by Kris' request, but she does want to start a family.
"I seriously thought by the time I was 30, I would have one baby and a bun in the oven... I cannot wait to have a baby just like Mason," she said, referencing her sister Kourtney Kardashian's son Mason Disick.
Catch the clip, via E!'s YouTube channel, below! Kim's Fairytale Wedding: A Kardashian Event premieres Sunday, Oct. 9, at 8 p.m. ET/PT and concludes Monday, Oct. 10, at 9 p.m. ET/PT. Will you be tuning in?