NEWS
Kristen Bell Desperately Wants to Star in the Next 'Hunger Games' Movie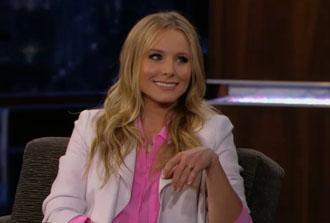 Article continues below advertisement
"I read the books and I was like, 'This is it, this is the piece of literature that in a 100 years we'll look back on and it will be the best thing we've ever written,'" Kristen explained of her "obsession" on Jimmy Kimmel Live.
"I was so taken with it, I couldn't put it down," she added. "And I kept saying to Dax, 'You gotta read this, you gotta read this.'"
But, sadly, once Dax realized that 12-year-old girls were reading the books, he was over the idea of ever picking up a copy. Until Kristen made him an offer he couldn't refuse.
"I said, 'What if I read it to you?' And I did, out loud, all three books," she confessed to Jimmy. "It took like three weeks. We read a couple of chapters a night. He was really into it. I did the voices and stuff.... So, I've technically read the trilogy twice." OK! NEWS: KRISTEN BELL SPARKLES AT THE OPENING OF THE TOP SHOP STORE IN LAS VEGAS
And Kristen, who actually had a Hunger Games-themed birthday party where she "dressed up" as Katniss Everdeen, really wants to star in the franchise's next film, based on the second book, Catching Fire.
"There is one part, age-wise, I'm right for," Kristen admitted, coyly. "Johanna Mason. I think I'd be good as her, but Hollywood is a competitive business." Would you like to see Kristen in the sequel?