NEWS
Kristen Stewart Says She Was "Locked Into Dress" During 'Breaking Dawn' Wedding Scene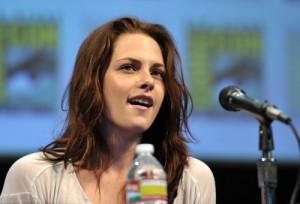 Kristen Stewart has definitely improved on her interviewing skills since the first Twilight film came out. The young, hot Hollywood actress seemed eloquent and confident as she took the stage at the 2011 Comic-Con to talk about the latest installment of the hit franchise — The Twilight Saga: Breaking Dawn.
Kristen answered a lot of pressing questions about her character Bella Swan — from the birth scene to the hotly-anticipated wedding scene — and that DRESS!
Article continues below advertisement
"I'd been ramping up to shoot that scene for four years," she told the audience of Bella's wedding. "They also put it at the end of the entire filming, so I had to wait so long for it to happen."
While she had been preparing, K-Stew revealed that she was still nervous to marry Edward Cullen (Robert Pattinson).
"When I got to set I was just as nervous and terrified as I expected myself to be," she shared, adding that as soon as she saw the set, her nerves were a bit better.
"It was just so beautiful," she shared. "I had to go get locked away in a room for the rest of the day, because I was locked into my dress and had to protect it. It was secret service style security. I ended up being much more relaxed than I thought I was going to be."
We would expect nothing less for a Bella and Edward wedding — it is of epic proportions!
Which Breaking Dawn scene are you most pumped for?