NEWS
Lamar Odom's Tell-All to 'Playboy': "Khloé's Not Small"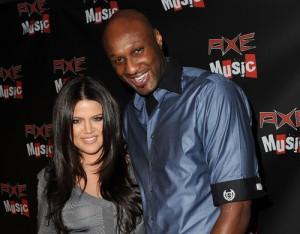 For their February issue, Playboy interviewed Khloé Kardashian's husband Lamar Odom and it seems like nothing was off limits.
OK! COVER STORY: KHLOÉ KARDASHIAN ODOM AND KATE HUDSON — PREGNANT & BETRAYED
What's it like for the Los Angeles Lakers star to be married to a Kardashian? Lamar wasn't too shy to share to Playboy.
On how marrying Khloé has changed him:
"Men, most of the time our goal is to have what we want when it comes to women...Most men like more than one woman. A lot of them would not want to admit that because that might not be cool, right? Most people don't want to get married. Being married, that's a responsibility. I always used to tell that to women. I don't want a girlfriend because that means I've got a responsibility. I have a responsibility to call you. I have a responsibility not to be with another woman. I have a responsibility to be there on time when you need me. With her I was like, If I do what I normally do, I'm going to lose her. And if I lose her, I think it's going to hurt a lot. Right then and there I knew. We were together every day."
Article continues below advertisement
OK! NEWS: KHLOE KARDASHIAN SO NOT HAPPY ABOUT GOING BACK TO BRUNETTE
On whether it was true that he withheld sex until they were married:
"I tried to. I didn't know why I wanted to wait. We came together and knew what we wanted from each other really early, and everything we did felt good, from a hug to a kiss. Then there was a time when I just tried to be a gentleman about the whole situation. I was accepted by her family. She stayed at my place and vice versa. I thought, We're going to step back for a second. Keep it classy."