NEWS
Lea Michele: "I Feel Beautiful No Matter How I Look"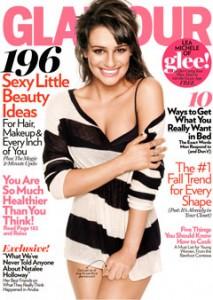 Lea Michele may be petite but she has a powerful set of lungs on her and can really belt out a song! The Glee gal graces the new cover of Glamour magazine and opens up her role as Rachel Berry, her relationship and how she stays so fit! OK! GALLERY: LEA MICHELE GOES FOR A GLEE RIDE
Lea is only 5'2" but she has a big voice!
"It feels like you're jumping out of a plane," Lea explains to Glamour of her singing voice. "Terrifying but incredibly invigorating at the exact same time."
Article continues below advertisement
OK! GALLERY: GLEEKS BEAM BRIGHT AT 2010 EMMYS!
While her own voice can surprise her at times on the set of Glee, Lea's co-star Amber Riley does too!
"We're both big personalities, and you definitely would think we'd bump heads. But she has taught me more about myself than anyone," Lea says of her friend. "She inspires me, she protects me, she makes me laugh, she tells me not to take myself so seriously. She's my Mama Amber."
And Lea is looking forward to seeing what happens to her character in the new season.
"I think we're going to see what she's like with a boyfriend. She's kind of inexperienced still, and I would like to see them together for a bit as a couple," she says. "I want to meet her dad — I really do. I think that they're saving that, though."
OK! GALLERY: THE STARS STEP OUT FOR TEEN CHOICE AWARDS
In her own life, Lea is also trying to find time to spend with her own boyfriend, Theo Stockman. Theo is also a Broadway star and so for now the couple is maintaining their relationship from coast to coast.
Article continues below advertisement
"I'm a relationship girl," she explains. "I would rather be long-distance with him than not have a relationship at all."
And Lea loves that, "He lets me be who I am" and if they were to enjoy a romantic evening together she knows exactly what they would do.
"Scary movie, pizza, being at home, maybe having friends over and a great bottle of wine," she shared. "I like it when a movie scares the s—t out of me. That, for me, is just the best."
OK! GALLERY: GLEE STARS IN A NEW YORK STATE OF MIND IN L.A.
And Lea really would eat the pizza and still keep such an amazing physique.
"I love being healthy. I get a lot of sleep," Lea explains. "I'm a girl who eats. And I feel beautiful no matter how I look. I have my family to thank for that. I'll have a big Italian dinner, and I don't give a crap because it makes me happy.