NEWS
Leo & Kate: Steamy on Set!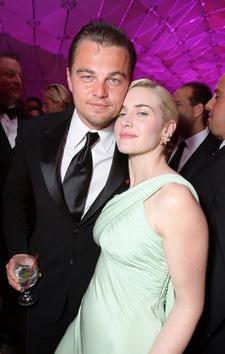 One might think that having your husband tell you how to get intimate with another man could be awkward, to say the least. However Kate Winslet says her director hubby Sam Mendes was all for it when it came to scenes between his wife and Leonardo DiCaprio in Revolutionary Road.
"Sam would sort of yell from the other room, 'No, Leo really grab her thigh! Really grab her thigh!' " she tells Entertainment Tonight of those intimate onscreen moments. "I thought, 'This is really strange, but I'm gonna go with it.'"
Article continues below advertisement
And while Kate admits it was a bit awkward to have her husband watching, Leo doesn't seem to be the least bit phased by the love scenes with his old friend Kate.
"Not a problem in this department," Leo says. "It was right for the characters."
Leo and Kate have both come a long way from the swoon-inducing Titanic by playing grittier characters in movies like Blood Diamond and Little Children. As for current heartthrob Zac Efron, Leo thinks he'll be okay.
"It's a strange thing to be thrown into the public eye like that at a very young age," he says." It's hard to navigate sometimes. Ultimately it's all about the work. I think Zac very much understands it's about doing good work and that's what will last."
Tune in to ET tonight for more!