NEWS
Lindsay Lohan's German 'GQ' Interview Pretty G-Rated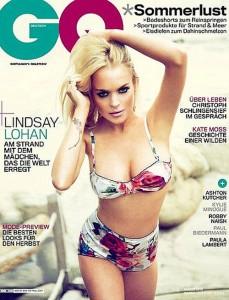 While her poses for the magazine aren't so "G"-rated, the interview with Lindsay Lohan in German GQ is very clean and almost naive — a drastic departure from what is going on right now in her life as she grapples at every possible outlet to help her escape her 90-day jail sentence beginning July 20. So what did she have to tell the mag?
Lindsay explains in the interview that when it comes to the film industry, she has matured from her earlier works (Mean Girls, Herbie Fully Loaded etc. )
Article continues below advertisement
"I've changed my point of view in recent years. When I started working in the industry, I wanted to get to the very top — and I was painted as something completely different from what I really was," Lindsay tells the mag, (English translation via Gawker). "Nowadays in Hollywood it is so much more about celebrities and gossip, which can distract many great actors from their actual ability. The public comes to know so much about these people that it gets superimposed upon on their work in movies."
OK! VIDEO: LILO & HER SCRAM BRACELET COVER GERMAN GQ
"I love what I do, so I have to be able to handle it."
Despite the media firestorm that surrounds her, Lindsay continues to act and has no plans of stopping.
"I like to tell stories that people can learn something from," she explains. "And I like the concept of film: to put yourself in a dark room, hide from the world from a few hours, and discover the similarities about yourself and the screen. I love it so much that I certainly won't stop, even if circumstances change."
Article continues below advertisement
As for the media, she says everyone in Hollywood has to handle it and feels the same way.
"People believe, of course, what they read in the media," she says. "There are all the hair-raising stories that circulate about me every day that are supposed to provide information about my true self. I read these stories about things that have never happened, and then I get to hear, 'Oh, but you were so cute in The Parent Trap!' But what I'm talking about, others in Hollywood feel the same way.
The media creates its images in just seconds, so they can interpret reality as they imagine it. If I sneeze, photos are published, in which I am said to be weeping bitterly. And if I keep my hand in front of my mouth and nose, it's the same, I was hungover and had a hard night of heavy partying behind me. You can't imagine to what extent this has been accepted."
FOR THE LATEST ON LINDSAY'S PRISON NIGHTMARE — BUY THE NEW ISSUE OF OK! ON SALE EVERYWHERE!