NEWS
Madonna & Guy Settle Divorce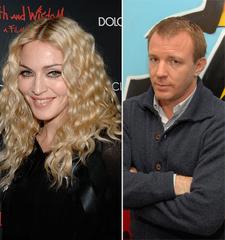 Only a few months after announcing their split, Madonna and Guy Ritchie have reached a settlement in their divorce, according tothe singer's spokeswoman.
The Rock 'n' Rolla director will be walking away from his marriage to the Material Girl with a hefty sum, "at least" 50 million pounds or $76 million, rep Liz Rosenberg tells the Associated Press. The twosome had an estimated worth of $525 million, with Guy holding his own fortune of $35 million.
Article continues below advertisement
CLICK HERE for OK!'s Ultimate Madonna gallery!
''I'd assume it's one of the largest payouts ever in a divorce settlement,'' Rosenberg says of the agreement, which tops even the amount paid to Heather Mills by Paul McCartney.
While details have yet to be released regarding the custody arrangement for children Rocco and David Banda, Guy will get the couples' country home as well as their London pub, the Punchbowl.