NEWS
Malan's Musings: Fashion Friday is Here!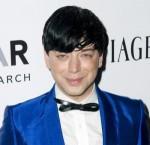 Every week at okmagazine.com, accomplished designer Malan Breton takes a look back at the week in fashion — the Do's, the Don'ts and everything in between! Join Malan and OK! for Fashion Fridays!
"Its a new dawn, of a new day, of a new life! And I'm feeling good!" Oh hearing friend Jennifer Hudson sing these words on the night that brought us into 2011, was a light into what seams to be a great new beginning in art, media, and fashion! Blah Blah Blah! Darlings lets get to what matters most! The fashion!
Article continues below advertisement
Article continues below advertisement
I love that Rihanna's stylist feels it necessary to match her hair to her ensemble. Red, though my favorite color, becomes like a Wednesday meets Saturday top matches bottom combo. Thank god her beauty makes up for this dress that resembles a ketchup bottle!
OK! GALLERY: SHANIA TWAIN'S WEDDING PHOTOS FINALLY REVEALED!
I love Shania Twain in black meets white bridal, it's so chic and so elegant! Classic Hollywood styling and so romantic on the sun kissed beach, with the picture perfect ocean in the background, and her picture perfect new husband, Brava! And congratulations!
OK! GALLERY: ELLEN DEGENERES & PORTIA DE ROSSI 'TIL THEY DROP IN ST. BARTS
Another beautiful couple chose sand over concrete as they basked in the sun of my favorite holiday destination, Saint Barthlemy, I love the playfulness and love that Ellen DeGeneres and Portia de Rossi exude. Their beach ensembles simple and sportif! Have you ever seen a couple more in love? Beautiful!
Article continues below advertisement
OMD! (Oh My Darlings!!!) I must close the week with, something really sort of ummmm? Chic! Kim Kardashian in a full head of cornrows! She looks like the goddess Nefertiti, STUNNING!!! I was not sure about this when I first saw it, but then you see those beautiful eyes, her perfect skin, and think, this girl could really do anything!
OMD's! Until next week, Happy New Year! May 2011 fill your life with great success, opportunity, and heaps of glamor!
Love & Glamor,
Malan Breton