NEWS
Mariah on Motherhood: "It's Hard Enough to Have a Puppy"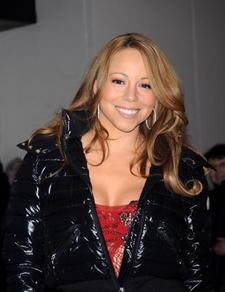 With Christina Aguilera and Jennifer Lopez having just given birth, and Nicole Kidman and Angelina Jolie — among others — due to give birth later this year, it seems like everyone in Hollywood is pregnant these days. Everyone but one — says kids aren't in the cards for her just yet.
"Obviously, having a kid is a commitment for life," she tells satellite radio show Yo on E!. "I really would have to be very, very positive that I was in a place where I could completely focus and put everything into the job of being someone's mommy, because it's hard enough to have a puppy."
Article continues below advertisement
The Grammy-winning songstress, who's been dating record producer Mark Sudack since 2003, prefers to focus on her career. Her 11th studio album, E=MC2, is due on April 15, and the first single, "Touch My Body," is already heating up airwaves.
Anticipation for the disc is great after Mariah experienced a career renaissance with her last album, The Emancipation of Mimi. The LP was the best-selling album of 2005, an achievement few predicted after the dual film/album bomb that was Glitter, but Mariah says the key was never losing hope in herself or God.
"I never lost my faith in God and that's the main thing," she says. "For me it's about my personal relationship with God and just feeling centered and just not letting anything really penetrate that."
In the midst of the Glitter debacle, Mariah, now 38, also experienced a nervous breakdown and sought professional help, not much unlike the personal trials Britney Spears has had of late. So does she think Brit can make a comeback like she did?
Article continues below advertisement
"I think anybody who loves music and is committed to the game can do whatever," she says. "I never count people out, that's just not in my nature but that is a part of human nature — people like to do that. But with me, especially with making this new record, it's all about the music."
Indeed it is all about the music and not about the gossip — Mariah laughs off tabloid talk and gossip about her, asserting that it is "not in my character" to be a hard-partying, drug-taking animal. And those suicide and plastic surgery rumors? Nothing more than that.
"Nobody could get me to that point of suicide because I have too much respect for God and for life," she says. "One of the rumors I just heard about was that $150,000 in plastic surgery. What in the ham sandwich do they think I did? It's very annoying."
Mariah also touched on the subject of politics. With all the public celebrity stumping for candidates, Mariah says she chooses to remain private about her vote, but still lets everyone know it's Barack Obama she's supporting.
"Yes we can!" she says.
For more on Mariah, tune in to Yo on E!.