NEWS
Matthew Fox: I'm a Doll!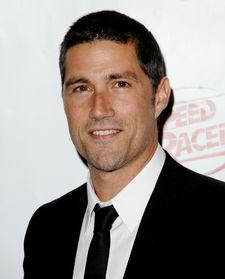 Matthew Fox isn't lying when he says he's a doll. The actor modeled for the Racer X action figure from his upcoming Speed Racer flick.
"Racer X is a very, very cool dude," the actor, 41, says. "He's got a very cool outfit. As far as action figures go, I'd have to say it's pretty good. They scanned it digitally really and it came out well."
Matthew says his 6-year-old son Byron can't wait for the flick to hit theaters.
Article continues below advertisement
"He asks me every single day when the movie's coming out. He's seen the trailer of the movie. He's very excited."
The action figure is a slice of fame his family doesn't often experience. He has been married to wife Margherita for 17 years, and is also dad to their daughter Kyle, 9.
"We're raising our kids in Hawaii. For me and for my wife, it's important that we keep those two worlds as separate as possible. I do the work, I go on a movie set somewhere, and there's a short period of time where I'm sort of in the spotlight promoting the film. My kids are never really aware that that's going on in any way."