NEWS
Mel Gibson & Jodie Foster Arm in Arm at 'The Beaver' Cannes Premiere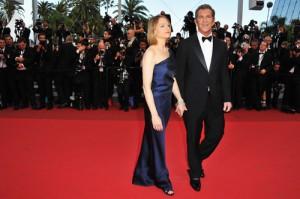 Mel Gibson and Jodie Foster arrived on the red carpet hand in hand yesterday for the premiere of The Beaver at the Cannes Film Festival in Cannes, France. Jodie, who is in the film and is the director, seemed super friendly with Mel; even at one point adjusting his bow-tie! Mel and Jodie shared a few laughs as they posed for pics and chatted away.
Article continues below advertisement
The Beaver reportedly didn't do too well at the American box offices its opening weekend. Despite its A-list cast, the film only brought in a mere $100,000 the first weekend!
Despite the weak response, celebs like Bar Refaeli, Naomi Campbell and Doubtzen Kroes all came out for the premiere to support the film. Check out The Beaver trailer below! Let us know what you think in the comments!