NEWS
Michael Cera Talks Love, Life and 'Juno' Effect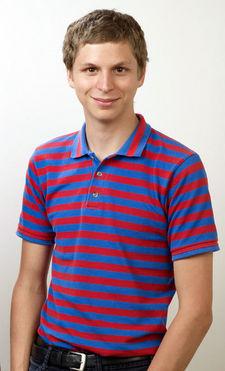 Michael Cera is wearing a red backpack slung over his shoulder when he strides into the room at Four Seasons Hotel in Toronto during interviews for Nick and Norah's Infinite Playlist, which is in theaters now.
The lanky 20-year-old actor is clearly at home in the lovable nerd characters he plays. He blushes as if he can't believe his ears when I tell him my editor has a crush on him. Does he consider himself a heartthrob?
Article continues below advertisement
"Yes," he sarcastically stammers. "I don't feel that way – no, I don't."
Kat Dennings, his costar in the romantic comedy, feels otherwise.
"I've seen girls fawn over you," she says. "It's true. You don't look. Sometimes he walks somewhere and literally a group of girls will stop what they're doing and be like stares/makes face of awe 'ahhh.' They'll look after you longingly, but it doesn't matter."
He self-deprecates, "Movie fans – movie heads."
Kat playfully adds, "Who want to smooch you."
The legion of ladies who swoon over Michael will have to fend off his girlfriend Charlene. The couple met through mutual friends -- "which is a good way to meet someone," he says -- and spend time together by "taking long walks, eating and hanging out." Why are they perfect together? "We just like each other," he tells me.
Article continues below advertisement
Does he find that their personalities rub off on each other?
"If I'm around people for a long time, I start to laugh like them," he says.
Heheheh. In Nick and Norah's Infinite Playlist, his character Nick gets dumped. In real life, Michael can relate.
"Yeah, I've been broken up with at some point. I think everyone has at some point – otherwise there's something going on. But I've had it for sure, definitely."
Unlike his character, though, he didn't give a breakup CD as a parting gift.
Now that teen pregnancy has become a hot topic with Bristol Palin and Jamie Lynn Spears, some have claimed that Juno glamorized the concept. "No, I think it's more about the family," he says. Although the time seems right for Juno 2, he won't go there.
"I think the story's been told," Michael tells me. "I don't know what the sequel would be like. It might be a little pretentious. Sequels always feel … there's very few good sequels. Back To The Future 2 is really great, Austin Powers sequel is good, The Spy Who Shagged Me. I don't think Juno needs a sequel. I think it's nice the way it is. I think it's a nice story that has been told."
Article continues below advertisement
Coping with fame certainly hasn't been easy for Michael. "People may feel like they know me, but only people in my life know me. They may know things that I like or things that I do, but people don't know me. People don't know me unless they know me."
When asked what he hopes to achieve in his career, he shuts down.
"I just think about what I want to be doing with my life – not my career."
And, what would he like to do with his life?
"I think that's pretty personal."
When it all gets to be too much, Michael heads home to Brampton, Ontario. "I like to just stay at home and be with my family." Ah, normalcy.
Nick And Norah's Infinite Playlist is in theaters now.