NEWS
Michael & Dina Battle in Court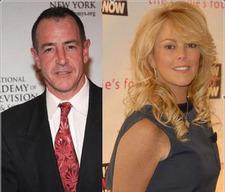 The Lohan family drama isn't just playing out on-screen.
Battling exes Dina and Michael Lohan have returned to a Long Island court Tuesday afternoon over custody issues.
Michael claims that his ex-wife has violated their visitation agreement with their minor children, Ali, 14, and Dakota, 11. According to Michael's attorney, John DiMascio Jr., Dina has forbidden his client from visiting the children.
Article continues below advertisement
Dina has primary custody and lives in Merrick, Long Island; Michael lives in Southampton.
While Michael has a lot to say in his OK! blog about his ex-wife and her E! reality show, Living Lohan, he was more reticent about the case at hand.
''There won't be any more comments from Dina and I,'' he said outside of the courthouse.
A follow-up court session is scheduled for July 14, but Family Court Judge Stacy Bennett shared she was pleased with what transpired inside the private chambers.
''I am encouraged to hear that the parties and counsel are working at ways to repair the relationship between the children and the father,'' she said.